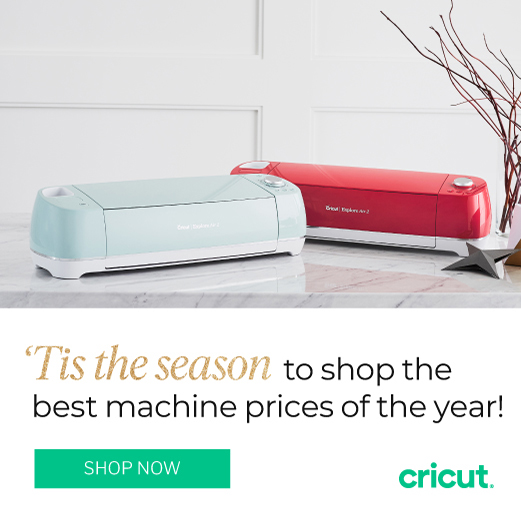 What are the deals for Cricut?
I love helping others save money, as I am a very frugal Mama. Below you'll find some of the top Cricut deals available at this time:
Limited Time Mystery Star Wars Box – Click Here
Save $30 when you grab a Cricut Brightpad for $49! Valid through 12/8/2019
Save 50% off Select Materials! Valid through 12/8/2019.
Save 20% off Clearance! Valid through 12/8/2019.
Save 40% off Infusible Ink! Valid through 12/14/2019.
When you first take your Cricut Explore Air™ 2 machine out of the box, you'll see that you can do so much with it from the get-go. You will receive a piece of sample vinyl and instructions to get your Cricut set up. Investing in a Cricut is a brilliant way to advance your crafting capabilities. You can make t-shirts, coffee cups, vinyl lettering for vehicles, signs for your home or business and so much more using the Cricut machine. If you just purchased your first Cricut and are wondering what tools you need to make life easier using this new machine, then you've come to the right place. Here are 10 tools that you should buy to advance your Cricut skills and make your Cricut crafting days easier.
10 Tools to Get Started with your Cricut
Cricut 2002050 Tools Craft Basic Set
Cricut Explore Air 2 Machine Bundle – Heat Transfer, Vinyl Pack, Tools Pens & Designs
Cricut Standard Grip Mat, 12
Cricut Ultimate Fine Point Pen Set, Assorted
Cricut Replacement Cutting Blades for Cutting Machines
Permanent Adhesive Backed Vinyl Sheets by EZ Craft USA – 12
Cricut 2002370 Tools Scoring Stylus
Cricut Weeding Tool Kit
Cricut Project Ideas: A beginners Guide to Mastering Your Cricut Machine
Fancierstudio Power Heat press Digital Heat Press 15 x 15 Sublimation Heat Press Rhinestone Heat Press T-Shirt Heat Press 15×15 B/BLK
There you have it, the top 10 tools to get started with your Cricut. I am fascinated with just how much you can do with this machine. I love seeing what others create with their Cricut or similar cutting devices. Whether you're looking to sell on Etsy, make your own gifts or simply play a little with the Cricut for fun, these tools will help make your life easier when it comes to crafting with the Cricut and perhaps inspire your creative side. Psst, don't forget to grab your Cricut Access Fonts before you leave this page too. Having multiple font options helps fuel your creative side even further.

Are you looking for the best Cricut deals available? Check out this list of deals for 2019 to save on Christmas gift ideas and other fun tools for your Cricut friends an family! Use this inspiration page to get some ideas on what you can do with your Cricut machine.