Would you like to create the perfect relaxing outdoor oasis in your backyard? If you'd like to give the backyard a complete makeover, you can do so without spending more than your budget will allow. Check out some of the following ways to easily enhance the look of your property from the outside.
After following these cheap backyard makeover ideas and adding some beautiful things to the backyard area, you're going to love the way it looks and look forward to spending as much time outdoors as possible.
Install the Perfect Hammock
You can't go wrong with adding Sunnydaze Hammocks to your backyard, but make sure you're choosing a sturdy one that won't break when you or your loved ones are resting on it. Sunnydaze has quite a selection of high-quality hammocks in different colors and prints. You can find options in shades of red, blue, green, and more. So no matter what look you're going for in the backyard, you can find one of these hammocks to fit right in with the rest of the decor.
Having a hammock in the backyard is convenient because it gives you a comfortable space to rest and relax. You can enjoy the fresh air and the beauty of nature around you while you soak it all in or read a book. You might even want to rest in the hammock with your significant other or child while having great conversations with one another. Once you add a hammock to your backyard, you'll wonder how you ever did without it in the first place.
Grab this Discount to buy a Backyard Hammock
Save 10% on Sunnydaze Hammocks & Accessories with code RELAX10 on 7/22 ONLY. This is a big THANK YOU from Sunnydaze Decor to help you make a more relaxing space in your backyard while celebrating National Hammock Day on July 22, 20211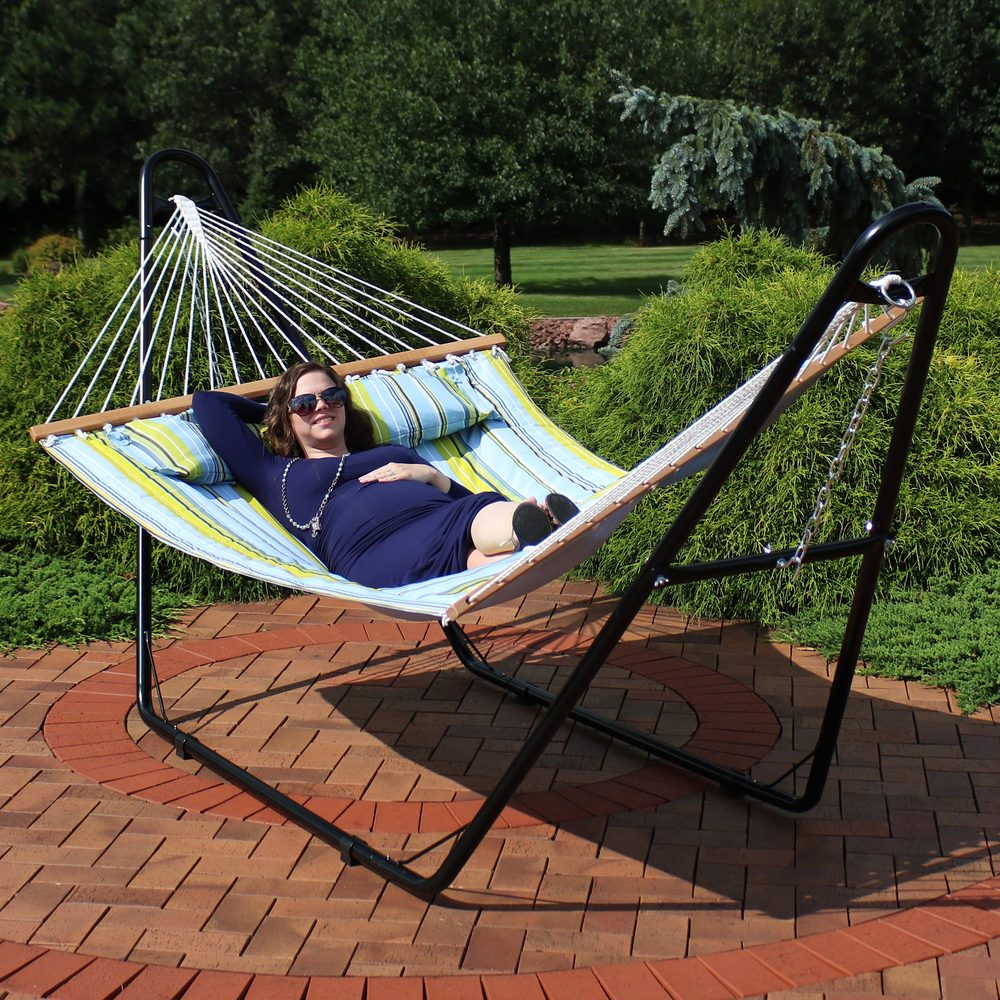 Bring New Plants to the Backyard
Enhance the natural appeal of your backyard by buying new plants and placing them in different parts of the backyard. You can get hanging plants to put around your fence that are easy to take care of and grow relatively quickly. You might want to buy plants that you can put into the ground and tend to regularly as a way to keep them growing. Not sure which plants to bring to your backyard? While you have options based on your preference, these are a few good choices because they're beautiful and don't require much maintenance:
Meadow Sage
Peppermint
Marigolds
Sweet Alyssum
While these are four options, you'll have dozens of other plants to choose from when you're deciding what to add to your backyard. While you don't want to clutter the backyard with too many plants, you do want to use a few options at fixtures to add color and natural beauty to your outdoor space.
Get a Fire Pit
Invest in the perfect fire pit to use while sitting out with loved ones. Even if it's a bit chilly, you can gather by the fire pit and make jokes, have good conversations, or even listen to music while spending time in the backyard. You can find high-quality fire pits in different sizes and styles, including rectangular steel wood and round cross-weaves.
No matter the shape or size needed for your backyard, Sunnydaze has what you need. After buying a fire pit, you can add logs to it and enjoy a simple fire as often as you'd like. You might even want to pull out the sticks and marshmallows to start roasting them with the kids!
Find the Perfect Outdoor Furniture
Buy furniture that you can use in your backyard. The exact type of furniture selected depends on several factors, including how much space you have in the yard and how much time you plan to spend out there. Along with the hammock, it's good to have a table with a set of chairs or a small bench for people to sit on while hanging out in the backyard. It's even better to have comfortable and durable furniture when you're planning to have barbecues with the family.
It's possible to find all kinds of excellent outdoor furniture for the backyard, including plastic options, wood options, and steel options. But did you know that you can even get an outdoor sectional? If you have the extra space for it, it's worth considering!
Illuminate Your Space With Decorative Lights
Add light to your backyard by using decorative lighting fixtures that you can install around your fence or patio. It's good to have some lighting fixtures in the backyard so that you can see everything around you after the sun goes down. Choose from various outdoor lighting fixtures available in different colors, including shades of white, blue, or multiple colors.
Add a Quick Path 
Who says you need to spend a lot of money to get a path installed in your backyard? If you'd like to have a path leading to the backyard from the back door of your home, consider buying a weather-resistant straight hardwood pathway. 
You can find these pathway options on Amazon! They're available in different colors, widths, and lengths, allowing you to select the perfect choice for your backyard.
Give your backyard a much-needed makeover with these simple tips. If you make some simple changes, you can create a more enjoyable outdoor environment that leaves you feeling relaxed and at ease. These fun backyard ideas for adults are simple, affordable, and worth the money spent!